When you know what you want, just go for it.
Everyone made me think that planning my wedding would be nothing but a pain in the rear end. So much so, that I thought I'd come across nothing but problems with, well, everything. It turned out to be a cake walk.

The first thing we did was make up a list of people we wanted to invite. Originally, we wanted only 50 - 70 people there, but we ended up with about 120. Always beware the "but you have to invite...". It'll get you in the butt every time.

Once a rough estimate of people was drummed up, we decided what type of wedding we wanted. Neither of us are religious, so we cut all religious references (we didn't want to be hypocrites) and arranged for a justice of the peace.
And location. I knew I wanted to make things as easy as possible, so we decided to have the wedding and ceremony in the same place (no worries of people getting lost going from the ceremonial site to the reception site).
The DJ, the Photographer, the flowers, the dress, the tux, the honeymoon. It sounds like a lot, but with al little help (and an organizer) everything falls into place. All these things was just a matter of references and timing. Luckily, we got married on the 13th and everyone was available, so not a lot of hunting around to do.

Help with it all!
Once all reservations were in place, there was a long time where people would ask "How are the wedding plans going?". Boy did I get sick of that question! How many times can a person say, "Well, it's pretty much done" without sounding bored? Not many!
All stays quiet until a couple of weeks ahead of the wedding, then you start going crazy buying presents, centerpieces, last minute items for the wedding and the honeymoon, checking to make sure everyone knows what is going on for the ceremony and reception. It's crazy!
Everyone needs to have a sense of humor about something!
The two days before the wedding are insane!
Day One
I cleaned the house and did all the laundry. That alone took all day! Reservations needed to be made for the rehearsal dinner, and people were calling my house every five minutes. And I still haven't packed for the honeymoon!
Day Two
This is the so much to do, so little time to do it in! I was going crazy. People were beginning to arrive at my house, and the tuxes needed to be picked up. The cake was beautiful, and my sister was supposed to help us bring it to the site. She got lost getting here! I realized I'd forgotten to buy a pen for the guest book and the cake serving utensils!

The grooms gifts still needed to be picked up and the cards signed. My sister made it to town, and everything made it to the site (after driving around all day). And I still have to pack! I had to get ready for the dinner, and pack, in the space of about 15 minutes. I threw stuff in a bag, changed, and raced to the restaurant. After a couple of beers, I was able to relax a bit there and had a good time!
The event was great fun!
The Morning
Compared to the day before, I was reasonably sane. We went the the hairdressers and they did a great job on everyone, and had some bagels and coffee. When we returned to the hotel, there was a whole bunch of waiting around, which was okay because I talked to a bunch of people in the hallway.

I put the nails on, and my sister put my face on in between doing a bunch of children's hair. We had to wait for the flowers (they were a little late, but that's okay, I had someone else wait for them). Then there was a whole bunch of waiting around until it was time to put on my dress. That went well with some assistance. Some more waiting around to go to the lobby for the limo. Once I did get there, the limo was late, so I felt really rediculous standing in the lobby with a bunch of people gawking at me.

A little tip for deciding on a limo driver: Make sure they know the roads! I thought we were going to die on the way to the ceremony. The driver went up a one way street (the wrong way) and then turned into a blind corner on the highway! I kept my eyes closed the entire trip. But we made it safe and sound.

Then we weren't allowed to get out of the limo until everyone had arrived and was seated. I didn't know this and people just kept coming in! It was 1 o'clock! They were supposed to already be there! That made me insane, I just wanted to get out of the car!
The ceremony was great!
The justice gave us all the pointers in the right places, as well as added some humor just for us to keep us relaxed (although I said 'I do' so fast I wasn't sure I even said it!). I was speaking normally for the exchanging of the rings (but I had a hard time putting the ring on his finger.
Done! I'm now Rachel Macauley...Wife! (God, that's so weird!)
Everyone seemed to have a great time at the reception, I know I did! The day went by really quickly and then we were off to Antigua!
The Honeymoon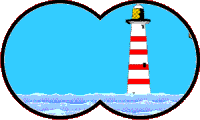 It doesn't get any better than Sandals if you want to be pampered. There is a person who greets you at the airport and arranges for a taxi. Upon arrival at the resort, they greet you at the door with cool, wet, lavender scented towels to cool off with. Quite nice after dealing with slightly rude airport people and delayed flights. They show you to your seat and give you a glass of champagne while you fill out the paperwork.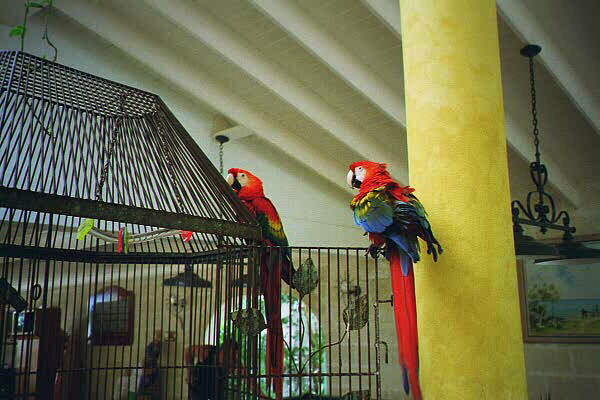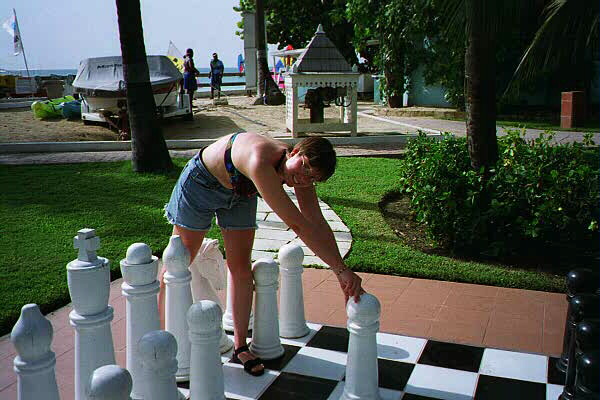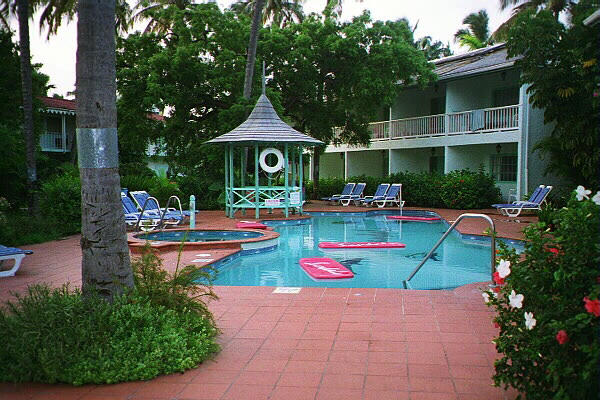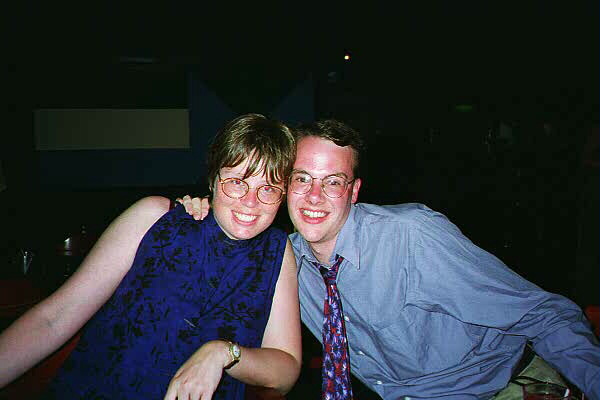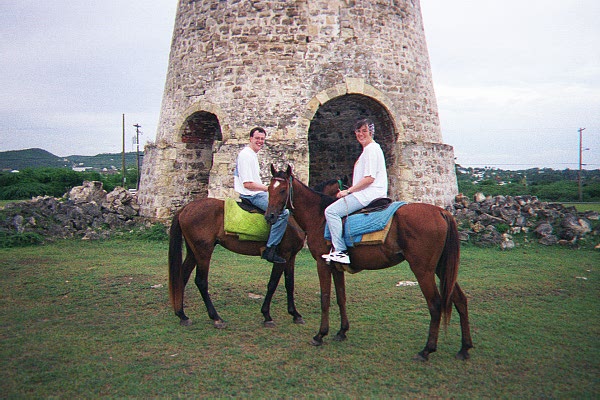 You don't have to think of anything down there except which activities to participate in! The food is there, the drink is there, and everyone truly seems happy. All of the employeed sang to themselves while working, which made it a wonderful atmosphere. All of the food was really good as well.

You'll have to right click
on image and view image
to see this well
It rained nearly every day, but we didn't let it ruin anything. I got my hair braided! And then promptly burned my head in little squares from the parts (now it's really itchy!)
We went horseback riding on the beach! Yay! That was my goal for the vacation. The really funny thing was we rode through town to get to the beach, and we heard a little girl say "Hey mom, there's white people going by!" I'm guessing that doesn't happen very often. We got to the beach, had some great pictures taken, and it was wonderful!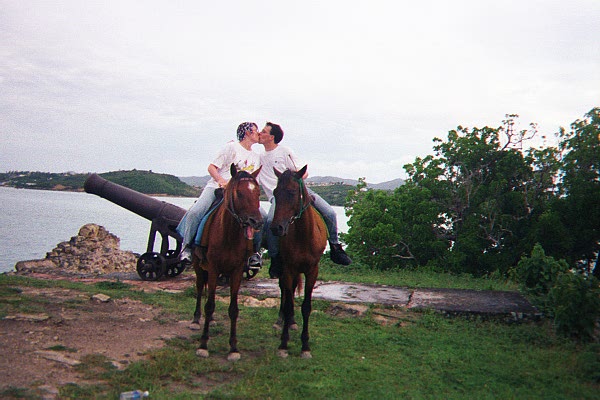 There was also a catamaran ride we took to a place called Green Island for snorkeling on the reef. Mac did very well, but I couldn't stand having the snorkel in my mouth, so I held my breath under the water with the mask on. We saw some cool fish, and I can only hope the photos come out.
Most of our time was spent at the pool/poolbar relaxing and swimming. And at night we spent a lot of time with another couple we met from England.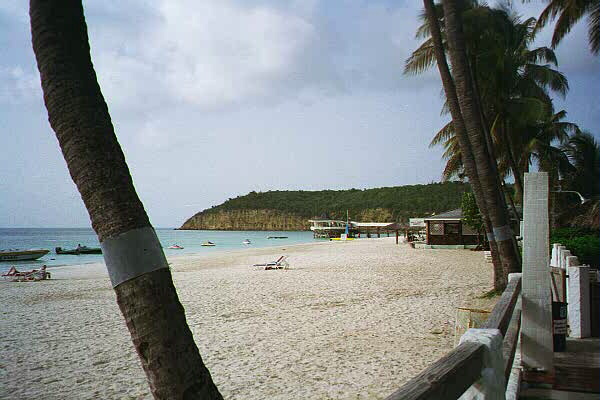 It was so much fun!